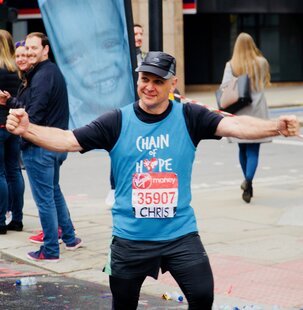 Three amazing and inspiring runners completed the 2019 London Marathon for Chain of Hope raising well needed funds for children suffering from heart disease around the world.
We are extremely grateful to Alice Huber, Nicki Saini and Chris Cahill who all finished the 3rd largest marathon in the world and did incredibly well in raising funds for our cause.
You can make a difference too.
The 2020 London Marathon will take place on Sunday 26th April 2020.
Chain of Hope has five (5) places we are inviting applications for. If you are interested please email emily@chainofhope.org
If you or anyone you know have entereed the 2020 public Ballot and secured a place, we would love you to for Chain of Hope as your charity of choice.
If you have secured a place in the public ballot and want to run for us contact emily@chainofhope.org or call 020 7351 1978 .
Thank you for being a link in the chain that mends little hearts.
Get involved!
If you would like to find out more about any of our events, please contact Shell on 020 7351 1978 or email: