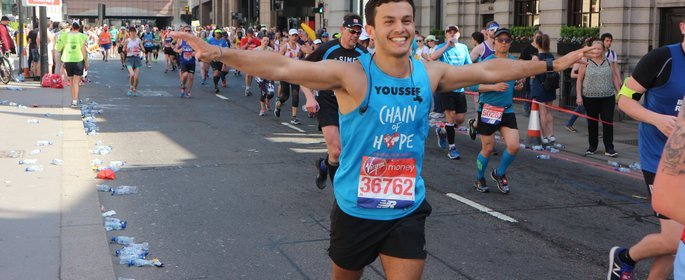 Help mend little hearts
Fundraising for Chain of Hope is one of the most effective things you can do for us and the money you raise, whatever the amount, will make a real difference to sick children. In addition to raising funds, you will also be spreading awareness of our work.
There are a number of ways you can fundraise for us, and we will support you along the way with tips, tools and resources. You can download an A-Z of fundraising ideas here.
If you would like to get involved, or have any questions regarding fundraising, please email Emily or call 020 7351 1978.
Organise an event
Whether it is a night out or a night in, a coffee morning or a charity football match, a bake sale or a head shave; with a bit of time and a supportive group of friends, you could be raising valuable funds for our work and having lots of fun! Recent events held on our behalf have included a sponsored bike ride, an art exhibition and a dinner party.
Meaningful gifts
Next time you are celebrating a special occasion, why not ask for donations instead of unwanted gifts. We will happily send thank you letters to all your donors, and what's more, we can claim Gift Aid on donations and receive an extra 25%.
School fundraisers
Teachers
Getting your pupils involved in fundraising is a great way to teach them about children from around the world. Teaching about our work can be done as a case study for geography or science classes, or used to teach about the history and culture of other countries. Please do get in touch to find out more about what we do and how you can incorporate this into the syllabus.
Pupils
Why not nominate Chain of Hope as your school's charity for the year. Perhaps you could organise an event such as a fancy dress day, raffle, concert, fun run, cake stall, treasure hunt or bring and buy sale.
Community groups
There are many ways your community can get involved in our work, for example you could:

Hold a car boot sale, coffee morning, raffle or concert

Organise a collection at a religious service
Choose us as your charity of the year. All groups are welcome to get involved – local societies, Scouts, Brownie and Guide groups, youth clubs – and we would be happy to discuss ideas with you!