12th December 2014 - 12th December 2014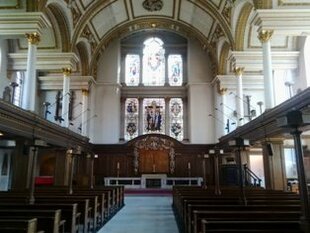 We were delighted to have almost 500 guests at our Carol Concert last week, raising over £17,000 for our work and enjoying the festivities at the stunning St James's Church, Piccadilly.
We were honoured to be joined by some very special guests including Patricia Hodge, who gave a beautiful biblical reading, Anita Dobson whose reading of 'Twelve Days of Christmas' with our Treasurer, Richard Gawthorne, had the audience in stitches and Colin Salmon who did a brilliant rendition of 'Talking Turkeys'. We were also treated to wonderful readings from Lana Shaughnessy, daughter of Chain of Hope Nurse, Lynda Shaughnessy, and Dr Robert Yates, Paediatric Cardiologist at Great Ormond Street Hospital.
The guests were supported in their carol singing by Orchard House School Choir, who this year have chosen to raise money for Chain of Hope through their charitable activities. We also had some very special performances from the English Chamber Singers, directed by Dr Martin Neary LVO. To top off our musical highlights we had a beautiful performance from Grammy Award winning Scott McFarnon.
We could not have put on this wonderful night without the hard work of our Carol Concert Committee, chaired by Robert Newell CVO. Special thanks go to Robert and his daughter Lilly Newell, Laura Irwin, Simon Tavener, Nicola Stephenson and Nada Abdel Nour.
If you would like to make a Christmas gift to Chain of Hope, to help children around the world suffering from heart disease, please click here.
Get involved!
If you would like to find out more about any of our events, please contact Shell on 020 7351 1978 or email: