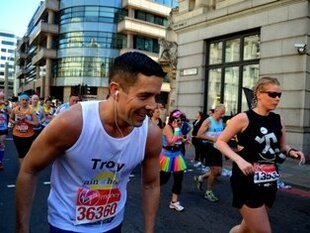 Each year we are proud to support a team of Chain of Hope runners in the London Marathon, one of the world's greatest mass participation events, and in 2016 our runners collectively raised nearly £20,000.
The day is a chance for volunteers new and old to gather together with our team to cheer our runners around and is always a rousing occasion as we watch thousands of people take on this huge challenge. We would love for you to join us, so please email Sarah to find out more: sarah@chainofhope.org
This year, Katy from our head office is running alongside co-ordinating our missions. Our long-standing Trustee and volunteer Cardiologist, Dr Alan Magee is also taking on the challenge, both inspired by the work they help Chain of Hope to do every day.
Running alongside Katy and Alan are Joanna, Charlie, Hamzah, Tim and Beth, all raising to mend little hearts. Click on any of their names to sponsor them!
If you are interested in running in 2018, then please email Sarah to find out how you can join our team of runners!
Get involved!
If you would like to find out more about any of our events, please contact Shell on 020 7351 1978 or email: