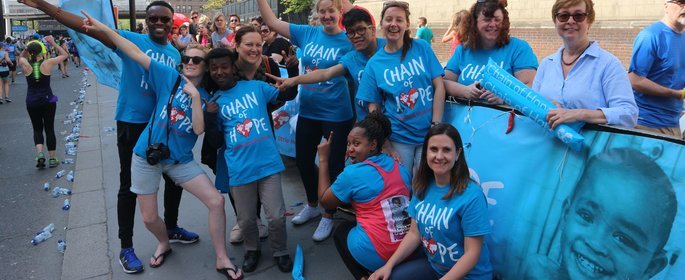 12 Volunteers take on Royal Parks Half Marathon for Chain of Hope
On 14th October 2018, 12 incredible volunteers will take on the Royal Parks Half Marathon on behalf of Chain of Hope, running 13 miles through London's landmarks and green spaces, fundraising and supporting our efforts to mend little hearts.
This year, our biggest team of runners yet has a diverse range of reasons for wanting to run for Chain of Hope. As well as friends and family, the team comprises nurses who look after our little patients in London and abroad on missions, a filmmaker, a police officer, consultants and our very own CEO.
You can read more about their reasons for running with us and help them fundraise by clicking their names below:
Jo Peterham Conrad Cornelissen
Linda Le Hoang Adrian Louison
Melissa Cortizo Andrew Street
In 2017, our Royal Parks runners raised over £15,000 and we hope to surpass that in 2018. As always, the Chain of Hope Team invites you to join us on the day to cheer on our runners on the day.
Our team will be there to offer our runners, volunteers and supporters some food and drinks as well as a chance to talk about how the race went and meet other members of the Chain of Hope family.
For more information contact Linda at linda@chainofhope.org or 020 7351 1978
Get involved!
If you would like to find out more about any of our events, please contact Bella on 020 7351 1978 or email: