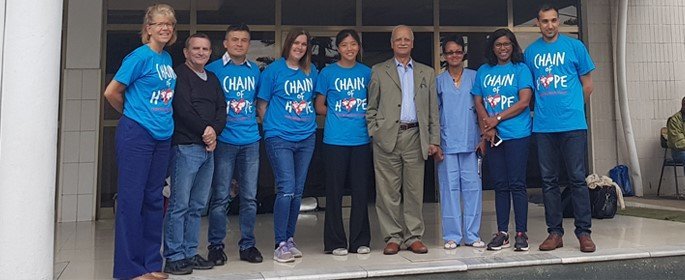 Where we work
Egypt – dedicated Cardiac Centre of Excellence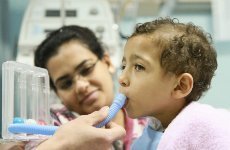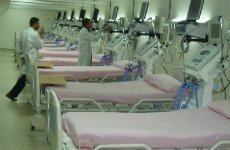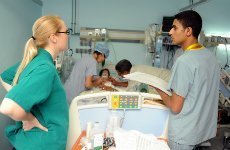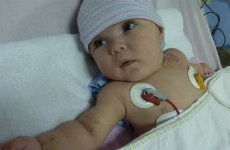 Chain of Hope has been working in Egypt since 1998, initially working with Abu Rishe Children's hospital in Cairo to help develop the paediatric service there. Following an investment in 2007 to install a brand new state of the art operating theatre, and refurbish the ten bed Intensive Care Unit, Chain of Hope began to focus on the population of Upper Egypt, and the huge need of paediatric cardiac surgery in this area.
Chain of Hope kickstarted the Aswan Heart Centre by equipping two dedicated cardiac operating theatres and 12 ICU beds in 2009. At first reliant on Chain of Hope specialist training missions, the Aswan Heart Centre has grown under the management of Egyptian based charity the Magdi Yacoub Heart Foundation, to be a state of the art facility providing the highest standards of care, free of charge to the local population.
We continue to support the Aswan Heart Centre with vital supplies and training programmes, such as the nursing development and education programme. We champion nurse leaders from the Aswan Heart Centre to be the future educators as part of our goal of sustainable services.
Our partners include
Aswan Heart Centre
Magdi Yacoub Heart Foundation
European Heart for Children
Magdi Yacoub Research Network
Gouna Technical Nursing Institute
Centre Hospitalier Universitaire Sainte-Justine - Montréal
Ethiopia – paediatric cardiac surgery centre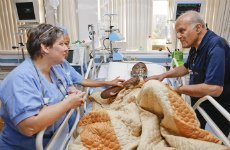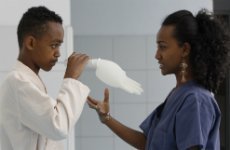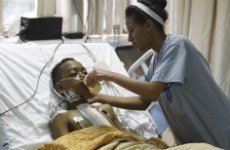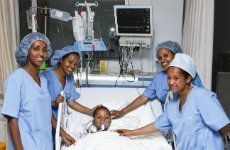 In 2009, working alongside local NGO, the Children's Heart Fund of Ethiopia, Chain of Hope invested in capital equipment to provide the new centre with two new cardiac operating theatres and a Paediatric Intensive Care Unit with six fully equipped beds. Since that time, Chain of Hope an its partner organisations have conducted nearly continuous missions to the Cardiac Centre Ethiopia treating nearly 1000 patients.
Chain of Hope continues to work alongside its partners to provide specialist equipment, consumables for surgery as well as maintaining a rolling schedule of surgical missions to assist with the development of the local team.
While the Cardiac Centre builds its local capacity, Chain of Hope is also sponsoring offsite training placements as well as mentoring the clinicians and technicians of the Cardiac Centre, offering them the opportunity to receive hands on training in some of the world's busiest and most renowned institutions.
Our partners include
Cardiac Centre Ethiopia
Associazione Bambini Cardiopatici nel Mundo
Children's Heart Fund of Ethiopia
Project Cure
Healing the Children
Aswan Heart Centre
---
Read about the service in Ethiopia in a study produced by Dr Endale who has been working with his Chain of Hope mentor Professor Shakeel Quereshi.
Jamaica – cardiac wing for children's hospital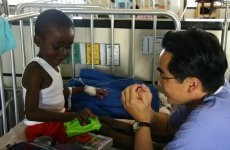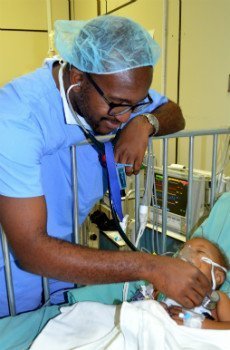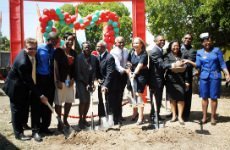 Chain of Hope President, Professor Sir Magdi Yacoub, has been treating patients in Jamaica since the early 1960's. So in 1996, when Sir Magdi established Chain of Hope, Jamaica was the first beneficiary country of the charity. Since then, Chain of Hope has treated over 400 children with heart disease and has built up a team locally in Jamaica who have been trained by the charity as part of a long term goal of setting up a cardiac service for the local population.
Chain of Hope is now working with the Ministry of Health to develop a cardiac centre of excellence for the English Speaking Caribbean at Bustamante Hospital for Children, Kingston, Jamaica.
This brand new cardiac unit, equipped with state of the art equipment funded by Chain of Hope and other international partners provides the children of Jamaica with a brand new operating theatre, 10 bed Intensive Care Unit and Cardiac Catheterisation Lab.
Chain of Hope will continue to support the development of the cardiac team in Jamaica through a series of established training programmes, surgical missions and provision of vital equipment.
Our partners include
Bustamante Hospital for Children
Gift of Life International
Digicel Foundation
Shaggy Make a Difference Foundation
Sagicor
Caribbean Heart Menders Association
Rotary International
Johns Hopkins All Children's Heart Institute
The Usain Bolt Foundation
Mozambique – The Maputo Heart Institute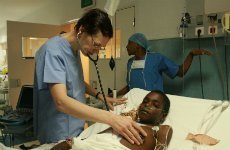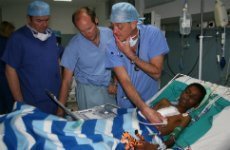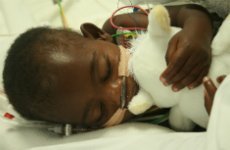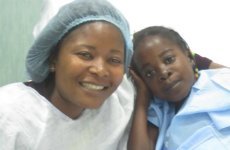 Chain of Hope has been working in Mozambique since 2000, supporting partner NGO La Chaine de l'Espoir in their leadership to establish cardiac services at the Maputo Heart Institute.
The Institute was initially developed by sending local medical and nursing personnel to Europe for training. Following the return of the team to Maputo, the heart centre has been developed by a continuous schedule of training missions by several international cardiac charities.
The result of this training and the development of cardiac services is the local team being able to perform 130 surgeries and 10,000 consultations annually in between the visiting training missions.
We continue to support the Maputo Heart Institute with specialist training missions that focus on rare and neglected cardiac diseases, including rheumatic heart disease and endomycardial fibrosis.
Our partners include
Instituto de Coração
Cadeia da Esperança
La Chaîne de l'Espoir
Coeur Pour Tous
Uganda – cardiac service for children and adults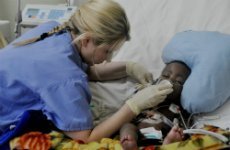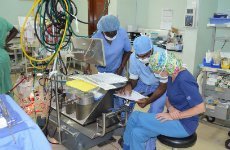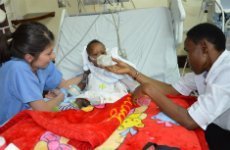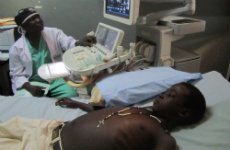 Termed a "wonder to the people of Uganda" by its Chairman, the Uganda Heart Institute is the first of its kind to help build a cardiac service for the children and adults of Uganda.
With a population of over 35 million people and the incidence of heart disease growing, the Uganda Heart Institute faces huge challenges in the fight against these diseases.
Chain of Hope has been assisting children requiring cardiac care in Uganda since 2005, initially by bringing children to the UK and Europe through our Child Referral Programme. In 2011, the charity was invited by our global partner, Gift of Life International to join a consortium of NGOs providing a programme of teaching and training missions. Since this time, Chain of Hope has carried out yearly training missions, focusing not only on the treatment of children, but more importantly on the development of the skills of the local team so that eventually they will independently be able to treat all of their cardiac children.
Our partners include
Uganda Heart Institute
Gift of Life International
Children's National Medical Centre, Washington
Riley Children's Hospital
World Children's Initiative
Jordan - treating refugee children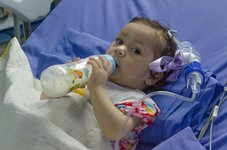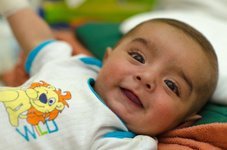 In 2015 we responded to the growing humanitarian crisis in the Middle East by beginning a programme of missions to treat refugee children in Jordan from Syria, Iraq, Yemen and the Palestinian Territories. Working closely with local partners Gift of Life Amman and international partners Gift of Life Indiana and Gift of Life International, we work to give hope to families who have lost so much, by giving them access to free cardiac surgery.
Our partners include
Gift of Life Amman
Gift of Life Indiana
Gift of Life International
El Salvador - working with Hospital Bloom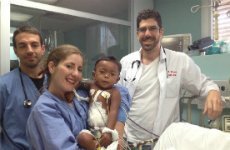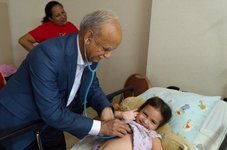 In October 2013 Chain of Hope was invited by our partner, Gift of Life International, to their project in El Salvador where they are supporting Hospital Bloom in developing a sustainable cardiac centre. Chain of Hope has sent teams of specialists to help children as well as partnering with Rotary Clubs to provide medical supplies for the local cardiologists to conduct interventional procedures.
Our partners include:
Hospital Bloom
Gift of Life International
Rotary International
Boston Children's Hospital
C.S. Mott Children's Hospital at the University of Michigan
New Project Countries
If you would like Chain of Hope to consider helping a new country where children have no access to cardiac treatment, please contact: