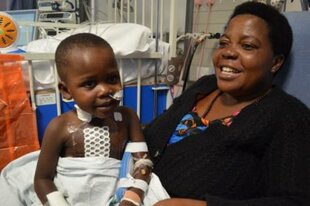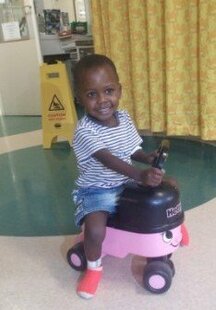 Two year old Prosper was born with a severe congenital heart defect. Instead of two arteries, one pumping blood to his lungs and one pumping blood to his body, Prosper had just one single vessel coming from his heart. This condition is called Truncus Arteriosis and meant that both oxygen-rich blood and oxygen-poor blood were mixing and flowing out the single vessel to his lungs and little body.
Prosper was referred to Chain of Hope by his physician in Uganda, and our Medical Board concluded that we could help. His surgery was scheduled at the Royal Brompton Hospital in London with Chain of Hope volunteer surgeon, Professor Francois Lacour-Gayet, in November 2014. After Prosper had rested and settled following the long journey, he underwent open heart surgery. The surgery went very well and once he was discharged, he made frequent visits to the Chain of Hope office, where he helped us all with our work!
Prosper has now returned home to Uganda to his very relieved family, where he will continue to receive post-operative care at the Uganda Heart Institute (UHI). We work with Gift of Life International at the UHI to develop a local cardiac service for Ugandan children like Prosper; read more about our work in Uganda here.
Categories: Children