London Marathon Runners 2017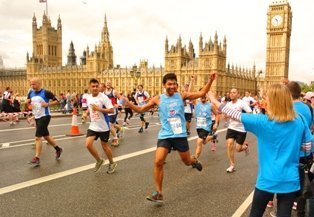 This year, we are thrilled to have nine runners fundraising for Chain of Hope by taking part in the Virgin London Marathon 2017. We have been able to offer seven charity places and have also been fortunate enough to have two ballot place runners choose to support us as well.
#TeamChainofHope have been training hard and fundraising even harder! We are hoping to raise at least £17,000 from this event! If you wish to support any of our runners, please see below for their online fundraising page links and more information on their involvement with Chain of Hope!
Katy is Chain of Hope's Mission and Volunteer Coordinator. She has been on several missions over the last year and seen first-hand the impact of our work. Working alongside our medical volunteers, Katy comforts and supports the child and their family whilst they are in the care of one of our partner hospitals.
She will be running alongside Chain of Hope's Trustee and long-standing medical volunteer, Dr Alan Magee. Alan has been involved in a huge amount of Chain of Hope missions over the years where he not only treats children in developing countries but also trains the local staff so they can continue to save lives without the presence of over-seas aid.
Beth works at the Royal Brompton Hospital as a Senior Staff Nurse in the Paediatric Intensive Care Unit, she cares for very sick children who have been urgently brought over to the UK by Chain of Hope's Child Referral Programme team.
Tim has found a passion for running since moving to London and has already accomplished a half marathon in preparation for the big day. He works at Arabesque Partners who are one of Chain of Hope's corporate supporters.
Hamzah was inspired to run the marathon after meeting Professor Sir Magdi Yacoub, OM, FRS and learning more about the charity he founded.
Joanna heard about Chain of Hope through a colleague. She works in the medical sector and often with paediatric patients. This encouraged her to become more involved with Chain of Hope so she can help children who do not have access to critical medical treatment.
Charlie first became involved with the charity when his company produced the Gala Ball 2016 film - he saw first-hand on the night how important donations are after a young Chain of Hope patient took to the stage to say thank you for the life-saving heart treatment he had received.
Marcus is on his 10th marathon! He has run for Chain of Hope a few times before and is very kindly doing so again this year, and splitting his fundraising with us and another charity. He is running in memory of his sister, Susan, who was one of the nurses who was unfortunately killed in Mozambique after helping on one of our medical missions. It is the 10th anniversary of their deaths.
Shaun used to work in the Child Referral Programme team at Chain of Hope! He has previously run 10k events for us and is back this time to tackle the London Marathon!