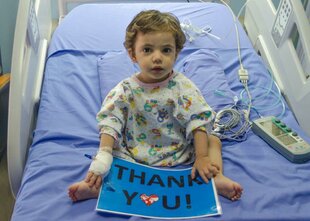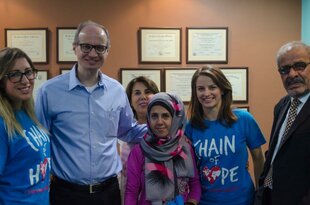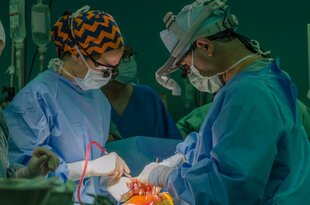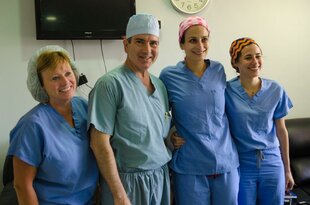 We conducted our first ever medical mission this September to treat refugee children and babies from Syria, Iraq, and the Palestinian Territories in Jordan. The mission was led by surgeon Dr Mark Turrentine, from Riley Children's Hospital in Indianapolis.
We began the week with a clinic at the Al-Khalidi Medical Centre, to check the conditions of the patients. Dr Khalid Salaymeh, a local cardiologist, volunteered his services to scan the children. We were delighted to see 17 year old Saga, who we had treated in 2004 for Tetrology of Fallot. As she was born in Iraq, Saga could not access the cardiac treatment she needed and when she was six her condition started to deteriorate. We managed to get Saga airlifted out of Iraq in a military helicopter, for urgent surgery in London. Dr Salaymeh was very impressed with her recovery, believing that the repair was one of the best he has seen.
Many of the cases referred to us on this mission were refugee children with highly complex conditions, and we were grateful to have the expertise of Dr Turrentine, who was able to give these children and their parents hope of a healthier future. He was supported by Dr Rania Abassi, an anaesthetist, Becky Coble, a nurse, and Dr Lola Chabtini, an assistant surgeon.
We would like to thank Gift of Life Amman, Gift of Life Indianapolis, Our Children, Palestine Children's Relief Fund and Gift of Life International for their collaboration and help on this mission, which we hope will mark the first of many medical missions to this region to help refugee children.
Categories: Overseas Updates