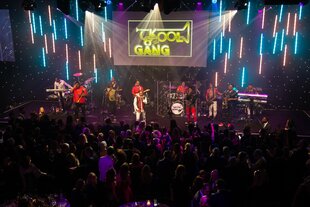 The annual Chain of Hope Gala Ball successfully raised an incredible £1.9 million for children suffering from heart disease around the world.
The Gala Ball was held at Old Billingsgate in London on Friday 22nd November with over 500 guests, including celebrities such as model, Kimberley Garner, Alex Murphy, musician and chef, Levi Roots, Actors, Tyger Drew Honey and Colin Salmon, celebrity chef Ainsley Harriot and former Love Island cast member, Dr Alex George.
Grammy Award Winning R&B group, Kool and The Gang were the headline performers and delivered a smashing 45-minute set with some of their most popular hits, including, Get Down on it and Celebration. There were also performances from Palestinian Singer, Omar Kamal and a show-stopping piece from The IT Girls.
President and Founder of Chain of Hope, Professor Sir Magdi Yacoub thanked everyone for their kind support of the work of the charity to help alleviate suffering around the world.
'There is a lot of pain around the world and your generosity has continuously succeeded in addressing at least some of that pain as it pertains to children, young adults and otherwise who would have no where else to go for treatment of heart disease,' Professor Yacoub said.
Chain of Hope's CEO, Emma Scanlan added that last year the funds raised from the Gala Ball helped the charity to conduct 19 medical missions, treating nearly 300 children across developing and war-torn countries.
The Gala Ball was hosted by Broadcast Journalist, Jonathan Samuels with a Live Auction conducted by Author and Master Auctioneer, Lord Archer.
Gallery