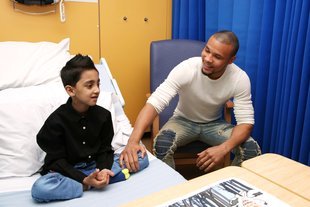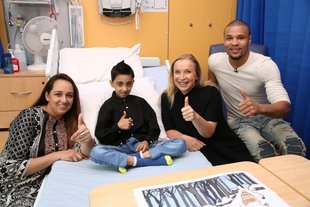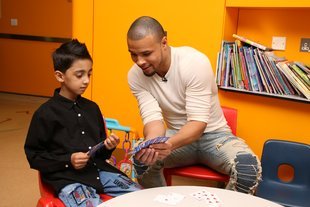 Celebrity IBO Super Middleweight Professional Boxer, Chris Eubank Jr is now an official ambassador for Chain of Hope.
Eubank Jr joins other celebrities, such as Arsenal legend, Robert Pires and Actor, Rupert Everett as official ambassadors for the charity, founded in 1996.
On Thursday 5th September, the boxer started his role as an ambassador by visiting seven-year-old Abuzar, from Pakistan who is recovering from heart surgery which he needed to fix a complex heart disease he was suffering with since birth.
Abuzar is one of the children the charity funded to have surgery at the Evelina Hospital in London.
'It's humbling and amazing to see a kid who has no more than a week ago undergone heart surgery to be walking around, smiling, happy. He is so brave and strong. It has been a surreal experience to meet him today and I'm going to be doing a lot more.' He said.
He said meeting Abuzar has inspired him.
'These kids, they had to struggle and go through so much at a young age and they are still happy, still smiling. So, no matter how hard your life is, no matter how tough you think you got it, you meet kids like Abuzar and you can't be unhappy.' Eubank Jr said.
The boxer has been supporting the charity since 2017 when he attended its annual Gala Ball in London, where the charity raises funds to help carry out its work treating children from war-torn and developing countries.
He said helping children with heart related defects who cannot afford it is such an important cause and is the reason why he has joined the charity as an ambassador.
'I've been inspired to become an ambassador for Chain of Hope, because the sport I love is all about heart, it is the most important thing a fighter can have, a big heart, a strong heart, the will to keep going. So, watching these kids who were born with a hole in the heart go through life, struggling and then recover so well because of the help of Chain of Hope, that's an amazing thing to me.' Eubank Jr said.
Categories: Press