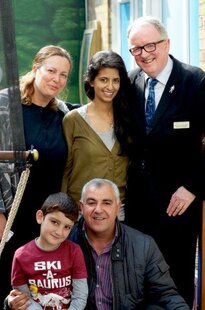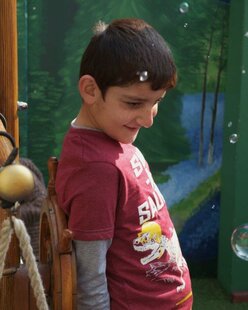 Eight year old Janshir, like so many children his age, has a penchant for computer games, always taking the opportunity to play on his Dad's phone. But unlike most eight year olds, Janshir's life has been fraught with difficulty. Born with a severe congenital heart defect called Tetrology of Fallot, Janshir needed surgery to survive, and as a baby had two stents put into his heart to help his blood get the oxygen it needed.
Born in Aleppo, Syria, Janshir's heart condition was not the only thing threatening his young life; as war tore through his country, his home was destroyed by bombing, leaving the family with only the clothes they were wearing. They moved to be with their extended family in a village further north, but when that was overtaken by fighting, they relocated to a refugee camp until it calmed down. When they moved back to the village, several members of their family were imprisoned and tortured, including Janshir's father, Omar. Meanwhile, unable to access the medication or care that he needed, Janshir's condition was deteriorating.
When Omar was released, he took Janshir to Turkey where they saw a cardiologist who confirmed that he was in need of an operation. Omar's brother, Wajid, who lives in London, found Chain of Hope online and made contact with our team, to see if we could help. The Chain of Hope Medical Board assessed Janshir's condition and believed that we have the necessary expertise to help. Omar managed to take Janshir to Istanbul, where a long-term supporter of Chain of Hope generously provided lodging for father and son until we could obtain the necessary medical emergency visas and flights. We flew Janshir to the UK with a medical escort, who administered oxygen to him and ensured that his condition was kept stable. A warm welcome awaited them at Heathrow from extended family and the Syrian community when they landed, before Janshir was taken by ambulance to The Harley Street Clinic.
Chain of Hope surgeon Martin Kostolny performed a corrective operation, patching a hole in his heart, widening the arteries, and fixing a defect in his mitral valve. Mr Kostolny hopes that this will mean that Janshir has no further need for surgery, and that within five weeks Janshir, who has not been able to walk to school for two years, will be able to play football with his siblings!
The Mail on Sunday featured Janshir's story, which you can read here.
Categories: Children