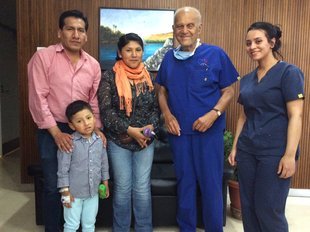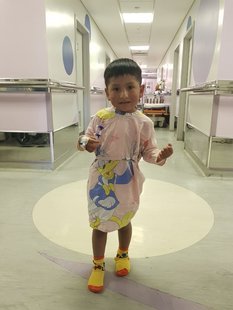 Chain of Hope treated our first patient from Bolivia, 5-year-old Adrian in May.
Adrian was operated on by Professor Sir Magdi Yacoub and the team at the Aswan Heart Centre in Egypt.
Adrian was diagnosed with a heart disease at birth and underwent his first surgery at one month old in Bolivia. However, as he grew older he needed further operation to fully correct this complex heart disease.
His parents sought help from Chain of Hope and he was flown to Aswan last week to have a Ross Procedure, which required the removal of his abnormal aortic valve and replaced it with his own pulmonary valve. The surgical team then replaced his own pulmonary valve with a new human tissue valve which was donated.
This procedure is a technically demanding and not available in many centres around the world. It is one of the areas Chain of Hope specialises in.
His father Kevin says that because of this surgery his family's life will be changed forever.
'Thank you for helping other people, for giving help to those who need it most. My son can now enjoy life, knowing that noble people of heart and soul helped him to live.'
After his surgery, Adrian told his father that he now aspires to be a doctor, because he wants to be able to help people who are sick.
He has recovered very well, celebrated his 5th bitrthday in Aswan and flew home to Bolivia with his parents.
Categories: Children