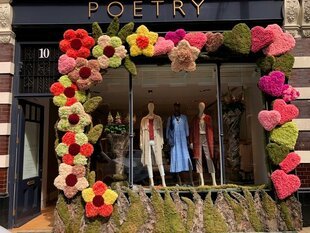 We were delighted that women's fashion brand Poetry chose Chain of Hope to benefit from their annual Chelsea Flower Show celebrations.
Poetry's flagship store created a magnificent floral display around their window, inspired by the little hearts we mend. The flower display proved to be hugely popular and Poetry were awarded a gold medal.
Poetry donated 5% of their sales during the week of Chelsea Flower Show and raised a fantastic £2,700.
We would like to thank all staff at Poetry who gave their time and effort to make a difference to children around the world.
Categories: Press