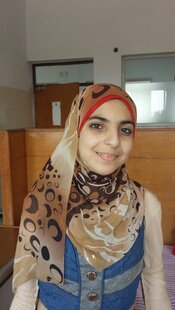 Syrian refugee Fadia was referred by our partner organisation Atfaluna to our echo clinic in Amman, carried out at the beginning of our surgical mission to treat refugee children in Jordan last September. Although she was 15 years old and full of life, Fadia was noticeably frail and after she was scanned by local cardiologist Dr Khaled Salamayeh, she was identified as needing complex surgery urgently. She was found to have a complex heart defect in which the positions of the main vessels in her heart were switched, in addition to there being holes in the inner walls of her heart.
To give Fadia the best chance possible of getting better, we arranged and funded for her to be treated at one of the hospitals on our Referral Programme, the Narayana Health Hospital in Bangalore which is headed by world renowned Cardiac Surgeon Dr Devi Shetty.
Travelling almost three thousand miles for life-changing heart surgery is a very daunting prospect, so we arranged for a medical escort, Dr Riyan Shetty, to make the journey with her and be on hand in case she needed oxygen support on the flight. Thankfully Fadia arrived safely and soon after had the life-saving surgery she desperately needed. She recovered well and returned to her family in Jordan a few weeks after her operation. She has been inspired by her experience to become a doctor so she can help other children.
Categories: Children