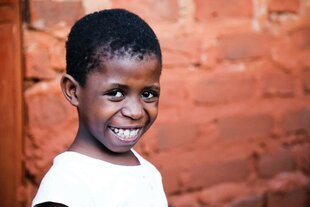 Meet 9 year old Diana from Uganda, brilliant, outspoken and charming.
We first met Diana in July 2017 through a referral from the Uganda Heart Institute.
She was diagnosed with a very rare complex heart condition which could not be treated in Uganda and required urgent attention.
Diana had a Double Outlet Right Ventricle (DORV), a congenital heart disease which cause an incorrect flow of oxygen-poor blood to the lungs and thus causes the heart to work harder to meet the body's needs.
In addition to her heart defect, when she was younger Diana suffered a stroke which caused her to lose the use of her limbs (her arms and her legs).
Since then, to be able to move Diana would have to pull herself across the floor with her arms or be carried by her mother.
Within days, our International Child Referral team arranged for Diana and her Mum to travel to Ethiopia to be assessed on a Chain of Hope visiting mission with the Aswan Heart Centre at the Cardiac Centre in Addis Ababa.
Following assessment by our Founder and President, Professor Sir Magdi Yacoub OM, FRS, it was concluded that the surgery Diana needed was too complex to be done in Ethiopia and she was accepted for immediate transfer to Aswan Heart Centre in Egypt.
Diana had surgery with Professor Yacoub on 4th August with a Homograft donated by Chain of Hope.
Following surgery Chain of Hope also sponsored Diana to continue with a month's course of physiotherapy in Aswan to help her improve use of her limbs. She was fitted with a prosthetic boot which enabled her to stand unsupported.
Diana recovered well from her surgery flew home to Uganda on 29th October with a mended heart and the ability to stand and walk on her own.
Categories: Children