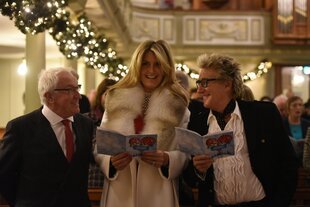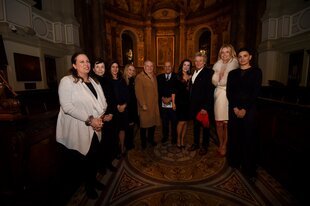 Celebrities Penny Lancaster, Sir Rod Stewart, Lord Archer as well as Robert and Jessica Lemarié-Pirès, joined Chain of Hope at its annual festive Carol Concert on Thursday 14th December at the St Marylebone Parish Church, London.
Lady Stewart delighted the guests with a special reading titled 'From a Tree Top' by Kathy Carter, and Lord Jeffrey Archer's entertaining delivery of 'Twelve Days of Christmas: A Correspondence' was happily received by those in attendance.
Spoken in her native-tongue, French, Chain of Hope's Ambassador Jessica Lemarié-Pirès gave the final reading of the night, 'Jésus, Toi qui es né dans une étable'.
Other readers for the Carols were, Chain of Hope heart patient from Ethiopia, Haile Hassen Konso, CEO of the Harley Street Clinic, Aida Yousefi, and Chain of Hope's International Child Referral Programme Manager, Lisa Yacoub.
Chain of Hope's Founder and President, Professor Sir Magdi Yacoub OM, FRS thanked everyone for their support over the last year. The charity coordinated 18 medical missions to developing countries mobilising teams of specialist volunteer medical professionals, treated 321 children from 16 countries with serious cardiac conditions whilst providing specialist training and equipment in these countries.
400 guests were entertained with beautiful carols by Soprano singer Margaret Keys and the all children's a capella choir from The Archer Academy.
The Chain of Hope Carol Concert is the charity's annual event to celebrate the festive season with supporters and friends and reflect on the work done throughout the year.