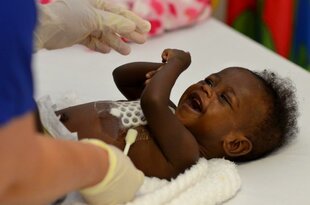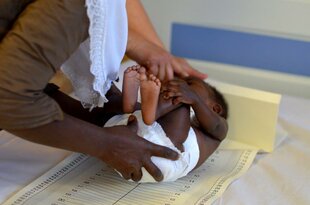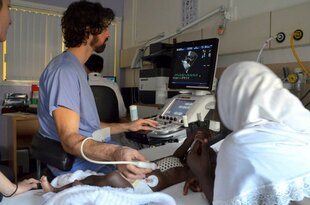 Baby Ameto from Uganda was diagnosed at birth with a complex congenital heart condition called Truncus Arteriosus. This condition means that there is only one artery from the heart, which then divides into the artery pumping blood to the lungs and the artery pumping blood to the body, as well as there being a large hole between the two pumping chambers of the heart.
This defect becomes inoperable after the first few months of a baby's life, but the procedure needed to treat it is highly complex. Whilst we are committed to building up the cardiac service at the Uganda Heart Institute, our Medical Board felt that the complexity of Ameto's case was better suited to the expertise available at the Royal Brompton Hospital, and so our team arranged for Ameto to be flown to London with her mother.
At six months old, weighing just over 4kg, Ameto underwent a surgical procedure called a Truncal Repair in London with Professor Francois Lacour Gayet. Although she developed an infection after her surgery, and remained for some time in intensive care, she went on to make a successful recovery and is pictured giggling with her relieved mother on the ward at the Royal Brompton.
Categories: Children