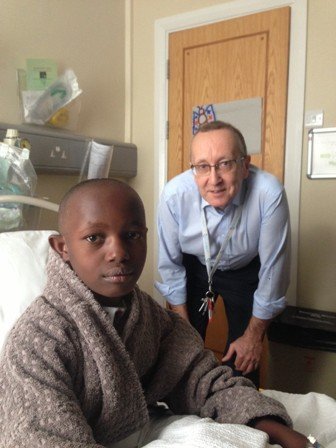 Sharon was born with a serious congenital heart disease called Tetralogy of Fallot. As she grew up, Sharon suffered from breathlessness and exhaustion, unable to keep up with her friends or go to school. By the age of 11, her health was in serious decline.
Sharon lived with her mother and father in a village in Central Kenya, where her father worked as a coffee farmer on a coffee co-operative, earning £30 a month to support their four children.
The Chain of Hope Medical Board received the medical data from the cardiac co-ordinator at the Mater Misericordiae Hospital in Nairobi and agreed to put Sharon on the overseas list for imminent surgery.
We arranged and funded urgent travel to London for open heart surgery at The Harley Street Clinic. A voluntary team operated on Sharon to save her life.
Much to everyone's joy, Sharon celebrated her 12th birthday after the surgery, with a birthday cake and balloons. Soon after she returned to Kenya, saying she will train to be a heart surgeon.