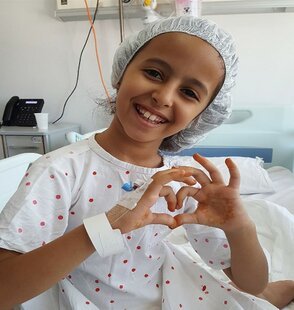 In September 2017 Chain of Hope returned to Jordan, successfully coordinating two missions at separate hospitals, treating a total of 24 children.
These included children from refugee communities in Yemen, Syria, Iran, Kurdistan and Palestine.
For the first time, this year the team organised a mission to the Gardens Hospital in Amman in partnership with La Chaine de l'Espoir (Chain of Hope, France).
This was funded by the European Civil Protection and Humanitarian Aid.
During this mission, the team led by Professor Vibeke Hjortdal and Dr Michael Oketcho from the Uganda Heart Institute treated nine children (8 Syrians and 1 Yemeni).
18-month old Islam from Syria who was born with a hole in-between the upper chambers of her heart, was one patient we saw during this mission.
Islam and her family lived in a refugee camp in Jordan for just over a year after fleeing the violence in their home country. The family, including her parents, brother, and twin sister travelled for two days to reach safety.
Islam had trouble breathing and little energy to play with her brother and sister. She had surgery to close the hole in her heart and since then, her health and quality of life has improved dramatically.
Meanwhile, in partnership with Gift of Life Amman, a second team lead by Consultant Paediatric Cardiac surgeon Dr Mark Turrentine from Riley Children's Hospital, Indianapolis operated simultaneously at the Al Khalidi Hospital treating 15 patients.
Nooralain from Yemen was very ill and was referred to us through Facebook contact by her aunt.
After reviewing her medical condition our International Child Referral Team worked tirelessly to arrange her flight to Jordan to be treated during the mission. Nooralain's heart was mended and she is back home doing great.
We are extremely grateful for the support of our partners who help us reach these children in need and providing them with an opportunity to live healthier lives.
Both missions received great help from Professor Shakeel Qureshi one of the world's leading Paediatric Interventional Cardiologist, who screened the patients prior to surgery to ensure proper diagnosis and required treatment.
Chain of Hope coordinates four missions each year to Jordan which is a central point for treating children from refugee communities.
Our next mission to Jordan will be in November and we hope to treat at least 10 patients.
Categories: Overseas Updates