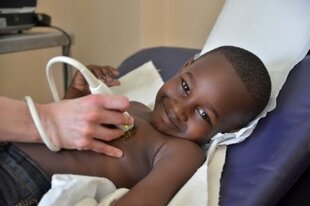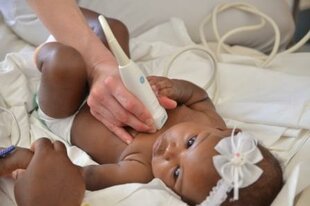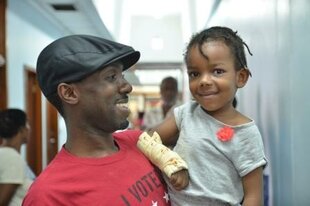 In January 2015, Chain of Hope conducted an outreach clinic around Jamaica to scan the hearts of children and babies from rural areas. Travelling to the Mandeville Regional Hospital, Savanna La Mar Public General Hospital and Cornwall Regional Hospital, the clinic saw 47 children, 36 of whom had previously been treated by Chain of Hope and other teams over the years. 11 further children were new referrals who were screened to diagnose the possible need for heart surgery. This clinic enabled many patients from surrounding rural areas to be examined who are unable to travel to Bustamante Children's Hospital in Kingston for follow up or diagnosis due to financial constraints.
Eighty percent of the children seen will not need to be seen for another year, which is an excellent post-operative result.
The clinic was a triumph of collaboration between the various hospitals, Chain of Hope and Chain of Hope Jamaica. Dr. Alan Magee, a world-renowned cardiologist who is an integral member of our Medical Board, and echocardiographer Kelly Peacock accompanied the clinic, lending their expertise to the screening and follow up of these little patients. Dr. Alan Magee has volunteered with Chain of Hope in Jamaica for ten years, and has also trained cardiologists Dr. Sharonne Forrester and Dr. Tamra Tomlinson at the Royal Brompton Hospital in London, through Chain of Hope.
We were delighted to donate a brand new portable echo machine worth US $100,000, which was used for the first time on this outreach clinic. It would not have been possible to conduct the clinic and examine these 47 children without it, and we are sure it will prove essential to the continual running of the cardiac service in Jamaica.
To read more about the donation of the Echo machine, please click here.
To find out more about the clinic and some of the patients we saw, download a photo booklet of the outreach clinic here.
Categories: Overseas Updates