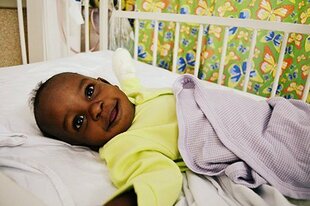 When baby Jude was born, he struggled to breathe and turned blue. His doctors diagnosed him with Truncus Aorta, a very serious congenital heart defect that causes sudden death. When Jude was referred to Chain of Hope, we flew him to London with a nurse and his mother, Helen, for complex heart surgery at the Royal Brompton Hospital. At nine months old, Jude was still tiny, his condition preventing him from growing as fast as a normal baby. After his surgery with Professor Francois Lacour-Gayet, he had a long recovery in Intensive Care but began to smile and find it much easier to breathe.
In the UK babies born with Jude's condition are treated at birth – after a year, the condition becomes virtually inoperable and many children in developing countries die from it in their early infancy. Because of the complexity of the condition, and the fact that due to their wait for treatment, the condition for babies in developing countries has worsened, it can be hard to find centres and surgeons prepared to operate on babies like Jude. We are immensely grateful to the Royal Brompton Hospital, and to Professor Francois Lacour-Gayet for helping us to give Jude a chance at life.
Dr Lwabi at the Uganda Heart Institute will be able to monitor baby Jude's progress as he has his follow up treatments and checks there. We hope that this surgery will give Jude a chance at life and that he continues to flourish and grow.
Categories: Children