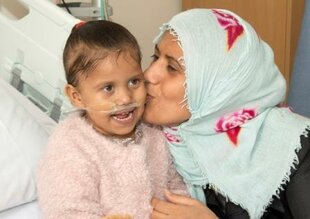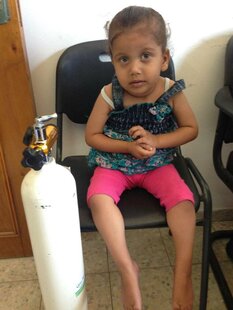 Little Hala from Gaza was scheduled to undergo open heart surgery at the Royal Brompton Hospital in early August, after being referred to Chain of Hope with a heart condition. Unfortunately, she was unable to get to the UK due to the situation in the Palestinian Territories, and after her home was hit by a bomb, destroying her oxygen tank, the three year old's condition started to decline.
Thanks to help from the Palestine Children's Relief Fund, the Red Cross and pressure exacted by Channel 4 News' Krishnan Guru Murthy, The Sun, other press, and even a #savehala hashtag campaign on twitter, we managed to get Hala to Jordan and then flew her to the UK. It was very touch and go on the flight, with Hala losing consciousness, but surgeon Mr David Nott was on hand to revive her.
Her condition was stabilised at the Royal Brompton Hospital, before she underwent surgery with Professor Francois Lacour Gayet. Hala is currently recovering with a host family in London whilst she is having post operative check-ups at the Hospital.
Categories: Children