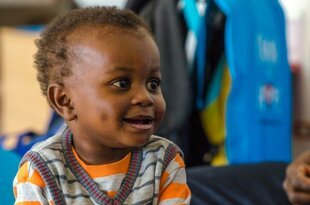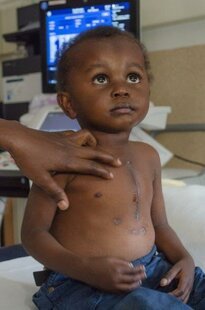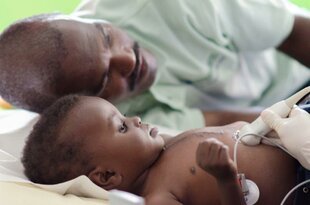 Davidson, who is three years old, is our first patient from Haiti. He recently travelled to London to be treated for a serious heart condition in which both the major arteries were carrying blood to and from only the right, and not also the left, chamber of the heart. This meant that the blood circulating around his body was oxygen-poor leaving him with little energy to run around and play like other children his age.
He was flown to the UK with a special medical escort, our Chairman Dr Gavin Wright, who was on hand when his oxygen levels dropped dangerously low. He arrived safely and was taken to the Royal Brompton Hospital where over the next few weeks he was assessed and approved for a surgical cardiac procedure which drastically improved the flow of oxygen around his body. After his operation Davidson began to look noticeably healthier and happier – gaining weight around his face, smiling, laughing and moving around with a lot more energy.
Davidson and his father, Lyonel, stayed with our host family, Robin and Sophie until Davidson was well enough to be flown back home. Also staying with them was Dr Daphnee Alce who travelled with them from Haiti and was invaluable to us as a translator due to the difficult Creole-English language barrier. Robin and Sophie provided Davidson with lots of toys to play with and, best of all, a new friend in their son Otto who is the same age as him. Upon hearing about Lyonel's struggle to find work in Haiti where unemployment levels are high, Robin and Sophie touchingly bought Lyonel a suit to give him a better chance of finding work.
Davidson gradually grew stronger until he and his father were able to fly back home at the end of May where Davidson's mother and his six brothers and sisters were eagerly awaiting their return.
Categories: Children