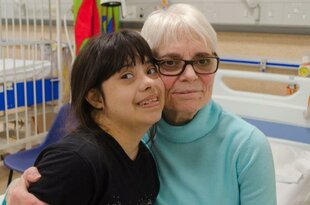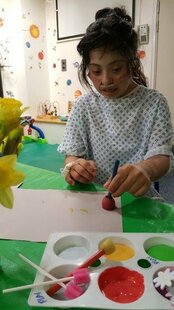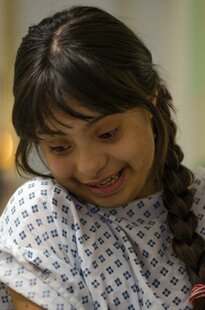 More than half of all children born with Downs Syndrome also suffer from a congenital heart defect. This unfortunately was the case for 15 year old Alisson from El Salvador who was born with a condition affecting the left ventricle of her heart. A blockage was stopping blood from travelling around her body as it should and meant it was vital for her to undergo urgent surgery.
Aware of the severity of her heart condition our partners Latidos de Esperanza referred Alisson to Chain of Hope. In order to give Alisson the treatment she needed, we flew her and her mother Elena from their home in El Salvador to London where she was admitted to the Royal Brompton Hospital.
After some initial tests, Alisson was approved for surgery. Her operation was performed by Mr Olivier Ghez, one of our expert volunteer surgeons, who removed the blockage in a seven hour operation. She recovered quickly and was soon enjoying herself drawing in the hospital playroom and singing Disney songs to her visitors!
Whilst she grew healthy enough to fly back home, Alisson and her mother stayed with Barbara, one of our host volunteers who made them feel welcome in a strange new country where they did not speak the language. They were particularly fond of her home cooked meals, which they said were much preferable to hospital food!
Alisson and Elena were overjoyed to be able to go home again a little over a month after they arrived. Alisson was particularly excited to see her brother and sisters as the family are very close and not used to spending such a long time apart. Since returning home, Elena has emailed to tell us that Alisson often talks of England as she misses Barbara and the cooler weather!
Categories: Children