Oxford University awards Professor Sir Magdi Yacoub, OM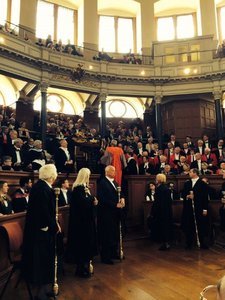 We are delighted that the University of Oxford has awarded our Founder and President, Professor Sir Magdi Yacoub, OM, with an honorary degree of Doctor of Science. The traditional Encaenia ceremony honours a combination of six eminent figures from the fields of engineering, medicine, history, literature and music.
This latest award for Sir Magdi's lifetime of achievement in cardiac surgery and dedication to humanitarian work was acknowledged with powerful insight into what makes him so special a figure:
His nature is so constituted that his intellectual power and his character cannot be separated. So tireless and energetic is he that one might think he needed no sleep at all: many is the time that he has operated all day and then spent the night teaching aspirant surgeons or discussing their work with fellow researchers… I venture to say that if we were to cut open his own heart, we should find goodwill and compassion inside it. For where there is need, there he may be found
Read the article published by the Oxford Times here and read the speech read in his honour here.