Excellence in Egypt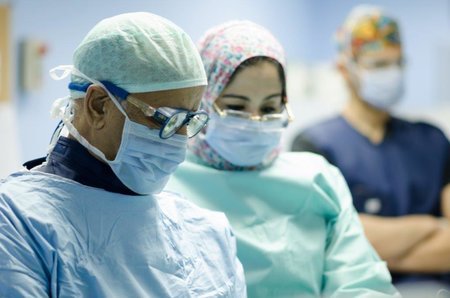 Professor Shakeel Qureshi is the Chairman of our Medical Board and a renowned interventional cardiologist. He has been training and mentoring cardiologists in Egypt for over 20 years and this April, he travelled as part of a Chain of Hope sponsored specialised mission to the Aswan Heart Centre in Upper Egypt. In just three and a half days, Professor Qureshi and Dr Sherien Anter treated and diagnosed 15 children with complex cardiac conditions via interventional catheter. They worked closely together to give the best quality of care to these Egyptian children.
Since the Aswan Heart Centre was founded in 2009 with the support of Chain of Hope, and under the management of the Magdi Yacoub Heart Foundation, it has made phenomenal progress, becoming one of the leading cardiac hospitals on the African continent, treating over 800 children a year.
---
17th November 2017
This year's Gala Ball will take place on Friday 17th November 2017, at the iconic Grosvenor House on Park Lane.
Each year, our supporters gather to...
23rd April 2017
This year, we are thrilled to have nine runners fundraising for Chain of Hope by taking part in the Virgin London Marathon 2017. We have been able to...
---